The latest Greylock Echo has hit the halls this week. This newly formatted issue offers fourteen pages of news, opinion, reviews, features, sports, and more. New Editor-in-Chief Molly Sullivan makes her editorial debut with this graduation issue. She has inherited an impressive team of writers who are working on print editions as well as maintaining an online version of the news (with separate content than the print edition).
If you have not seen, subscribed to, or engaged the Echo Online please do. The print edition is only a small part of the work the Echo staff is doing.
Here is a link to the online Echo page which you should promptly bookmark in your browser of choice. Note: The online version works brilliantly on your handheld devices as well.

---
Here is the June 2022 print edition of the Greylock Echo: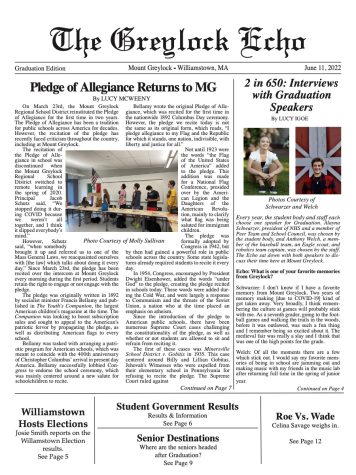 In This Issue:
News & Features:
Pledge of Allegiance Returns to MG
Interviews with Graduation Speakers
Robotics Club Competes in Regional Competitions
Student Art Featured at MASS MoCA Invitational
Spring Dram Hits the Stage
Gina Riggins '09 Returns to Greylock
MG Alum Wins State House Primary
Williamstown Holds Town Elections
Senior Art Features
An Interview with Christian Sullivan
Strizzi to Retire After 21 Years
Student Government Results
Senior Destinations
Williams College Students Create Website of Mount Greylock Mental Health Resources
Sports:
Mounties Find Success in State Tournament
Athlete Spotlight: Jack Cangelosi
Celebrating 50 Years of Title IX
Greylock Begins Spring Sports
Nine Greylock Teams Compete in Spring Season
Opinions:
Breakfast in a Breeze
Celebrity Activism: Does it Help or Hurt?
Why We Need Roe v. Wade
Goodbye Letters from the Editors
Doctor Strange Film Messy But Unique